The journey so far of… #thomaskentcan.
We are 3 weeks into Thomas starting his own business and, of course, I am by his side. I knew with the way I move through life it was always going to be a case of let's just do it and see where it flows to… no being overly organised, no thinking for months about our strategy and how we would do it, what he could do and no over analysing if it would work, and what does making it work even look like… I just knew I needed to have the time in my diary to be around and support him however I needed to and in whatever capacity that would be…
So, we simply got an ABN, got insurance, did a FB page and launched a business…(read more about his first week in business)
So, I have been alongside Thomas cleaning walls, mowing lawns, washing and cleaning cars, walking dogs, washing windows, collecting cans ….etc etc Usually I am sitting on the balcony drinking cocktails this time of year… ? instead I am on a journey of my own personal development.
So, I have learnt some new lessons and had other long standing beliefs and philosophies affirmed and been reminded of some simple rules of living a happy, peaceful and successful life…
# Reaching goals and enjoying success is not just about what you 'want' to do, it is about what you are PREPARED to do, life will reward all action.
# All action is progress and it is true what they say… often the opportunity is disguised as hard work or sometimes the magic is dressed up in what may be considered a menial task.
# The true reward is not about the money you earn but about WHO you become as you grow through doing the work that earns you the money.
# There is real joy to be found in doing the simple tasks and doing them well.
# It is always good for us to go back to the basics, remember that the foundation has to be strong for your success to stand on and grow from.
# When you focus on CAN, what people CAN do, more of it shows up, what we focus on expands.
# I have missed the smell of freshly cut grass and love the meditative moments in doing simple tasks.
# There are SO many good people in the world who will support you when you show them you are not after a handout, just a hand up.
Now there have been moments that I have asked myself what the f#ck I am doing when I am standing outside in 34 degrees googling how to start a whipper snipper! And so I discover a little more about me on this journey too… ?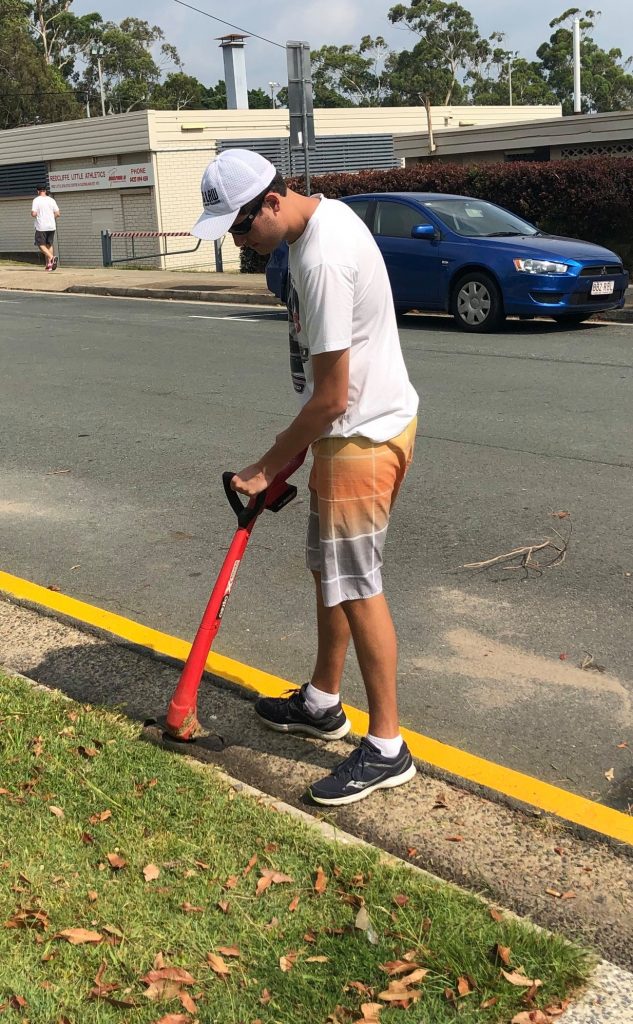 And of course the true gift in all of this is watching my Thomas grow, his confidence and personality, his ability to connect now so confidently with strangers… the way he embraces whatever task he has in front of him… never complaining, (well he did get a bit pissed off when he smacked his head on a house when mowing), watching him learn, feeling him mentally and emotionally happier and more content… seeing him own his space and place in the world and knowing he has one… priceless.
Thank you again for your ongoing support..make sure to follow and like Thomas Kent Can