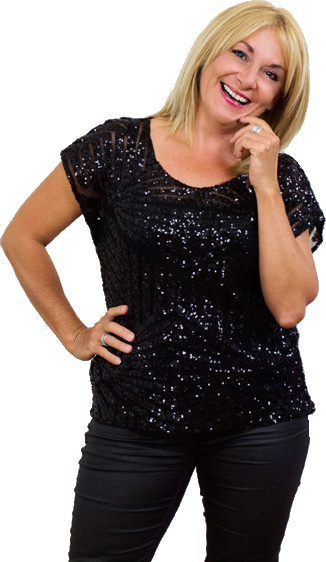 Julie can present and execute both motivational and educational presentations and workshops, in varying lengths and formats – as required by the client and stipulated at time of enquiry.  If you have a topic you'd like Julie to explore – just ask!
She's completely open and takes on any new challenge with enthusiasm.
Her standard presentations include (but are not limited to) the following:
LEADERSHIP / INSPIRATIONAL TOPICS
1. The Inspirational and Entertaining 'Show'
Julie's 'show' format is perfect for any event opening or closing, or for a keynote address as it's energising and inspiring! Delegates will be entertained by Julie's sparkle and will be encouraged to make a shift in their thinking.
2. Women Making It Work
It's no secret that while Julie appeals to both male and female audiences, she has a special ability to connect with women. This presentation / workshop has been created for female-dominated workplaces / team environments to empower women to individually honour themselves, respect themselves and love themselves.
3. Reconnection with Resilience and Responsibility
Julie Cross has brought resilience and responsibility back into fashion! She takes what can be a confronting message and delivers it in an inspirational and entertaining style, which has been proven to create internal shifts in audience members / delegates, and also create quantum shifts in team morale and productivity.
BUSINESS / EDUCATIONAL TOPICS
1.  Service with Attitude!
An inspiring and informative presentation or workshop for all people in the business of serving, whether that is serving within the organisation to other team members or serving externally to customers and clients.
2. Teaming up for Success
This presentation / workshop was designed for environments where teamwork is crucial to success.  The audience or group will be inspired by Julie's message that we are lifted to success by those around us, whether that's our team mate, our leaders, our clients or even our family.
3. Lessons in Leadership
Julie's message is all about Leadership, an inside job.
4. SERVICE – It's A Show (new for 2021)
Never before has the interaction with our clients and customers been so important. Never before have we had an opportunity as powerful as this to delight, empower and inspire our customers to do business with us. The 'famous' have left the stage leaving centre stage for you… our front line workers. You are centre stage, it is your time to perform and as leaders we better makes sure they know their lines and give award winning performances!
Download Julie's Speaker's Kit here.
Would you like to Julie to speak at your upcoming event?  Complete the form below and Julie will be in contact shortly otherwise please call her on 0414 451 512