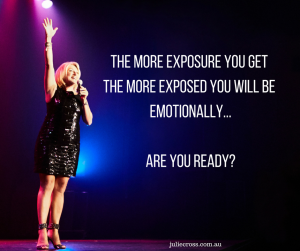 Yes, be careful, because the Universe is listening.
If you wish for great success, abundance, happiness and fame… or a combination of these… then that means you are also asking for all of the qualities required to achieve this dream.
Because you see, and I will say it again, as you get more exposure you become more exposed!
I gained lots of exposure when that bikini post went viral, lots of wonderful comments, and messages. Lots of affirmation that I made a difference in peoples lives, a bigger stage for a while to share my message from. But do you think that was all that happened… NO, I got called some names I didn't even know the meaning of. I had to google some of those names to see what they meant… oh yes, I had my share of trolls and nasty comments. But so what?
Here is your opportunity to decide which way you are going to play the game, because I have two choices… I can either shrink back into the corner and stop letting my sparkle shine and give power to those individuals who would try to steal it OR I can stand up tall and proud, focus on those that were affected positively and continue to let my light burn bright so I may invite others to do the same. You see, for me, that 'bikini post going viral' moment was the universe applauding me and saying, 'You are on purpose, keep on!', and also saying, 'And if you choose to keep on remember you will have to braver than you have ever been'. Because you will never be able to please all of the people or control what others say about you. You will have to have the mental discipline to not buy into others peoples negativity and insecurity.
You will have to have strong emotional muscles of resilience and courage. So Julie, are you ready. And I replied, as I gently walked those fearful people to the door and turned the lock… in social media they call that a block, I replied, 'I am ready!'