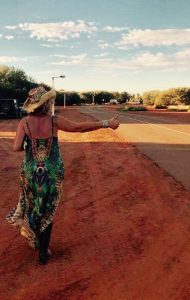 Are you hitching a ride with 'life' and are you going with the 'direction' life is taking you?
There is so much talk about setting goals and having 'drive' … being 'driven' and while I am all for this let us make sure that in doing so we leave room to flow and go in the direction the Universe is taking us.
Because you see maybe sometimes being 'driven' was actually allowing to Universe to pick you up and drive you now and again and surrender to where you are going trusting in the direction.
Life is a fine art of 'driving hard and staying focused on the destination' and 'sitting back taking in the view and noticing any side roads you may want to go down'
It is always easier to hitch a ride with somebody going in your direction than getting a ride with somebody going the opposite way and trying to 'make' them turn around… and so it is with life!
I am going my way with people heading in the same direction… I choose to decide the general destination of where I may want to end up and then I hitch a ride with the flow of the universe and people going my way!
A little bit of Red Centre inspiration.
DISCLAIMER Please don't lecture me about the dangers of hitchhiking… I wasn't 'literally' doing that and I don't suggest you do either!