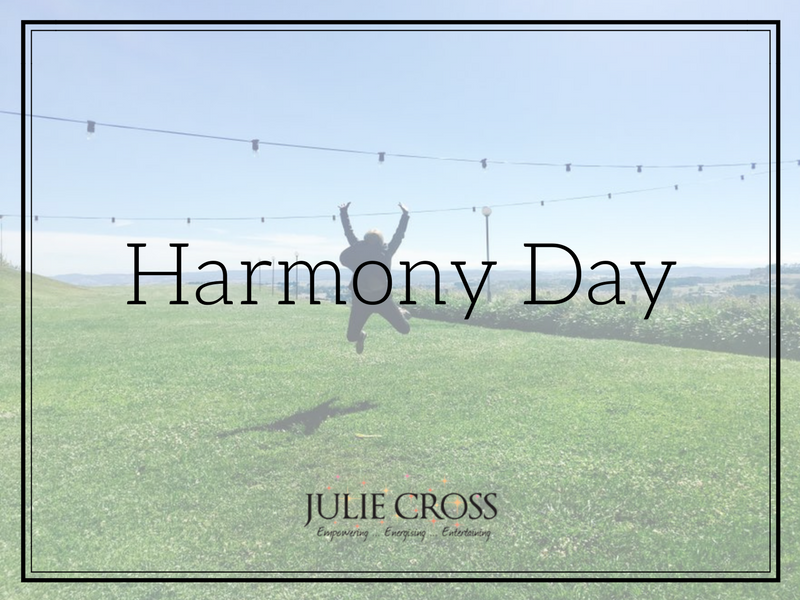 So today is Harmony Day…
So the continuing message of Harmony Day is 'Everyone Belongs'. It is about community participation, inclusiveness, celebrating diversity, respect and abelonging for everyone.
And then when I look up the definition of harmony specifically when it comes to music…
A pleasant musical sound made by different notes being played or sung at the same time…
And that to me is certainly what it is about… we need all of the different notes, the different instruments, the loud, the soft, the pauses and crescendos to make a beautiful, entertaining and harmonious piece of music… and so it only makes sense that we need all kinds of people with their unique personalities, beliefs, religions, backgrounds, opinions to make the world a beautiful, entertaining and harmonious place…
And surely it is only when we insist on everybody playing the same instrument as us in the same way or sing the same notes as us that we disrupt and challenge harmony…
So, you play your music and I will play mine and together we will make beautiful music… and that worst thing would be to not let your unique music out into the world because that would not be a harmonious way to live for you.
And as I watch Thomas, with his Autism along for the ride, moving through the world… well I thank everybody around him who applauds the unique music he brings to the world and celebrates his uniqueness… harmony in action right there!