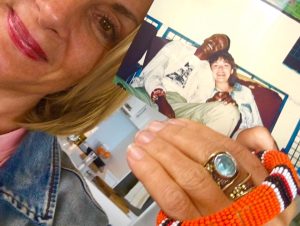 Hello friends… I have been sharing on my personal page a journey down memory lane… the amazing experience of visiting Kenya some 27 years ago.
While I was there I did a three week safari and this was our driver.
His name is Moses and he was a local Masai. I would go on to stay another couple of weeks with him and his family. He became my 'African Brother'
The Masai make brightly coloured jewellery and you will notice that i am holding a bangle that Moses is wearing. He gave it to me as a gift to remember him by. And of course I have always remembered him.
SO, in those days no social media, a little harder to stay in touch and I lost touch… BUT…
In less than 2 weeks I am going back to Kenya and doing another safari… this time to see the Sliverback Gorillas in Rwanda ( No 1 on bucket list!)
Before I go on Safari I have a couple of days in Nairobi… I am heading off on a day trip to spend some time with the Masai.
Oh and you know how I believe in magic and miracles so just imagine if I met Moses again!!!
He drove with the 'Kumuka' company back then which is no longer… and Moses is a very common name … but who knows, maybe somebody in FB land knows him??
Wouldn't that be a story to tell.
?
UPDATE:
Well miracles do happen ! Thanks to a beautiful Tina and two lovely Sue's I spoke to Moses today!!! So we are hoping to catch up depending on where we both are … but for me the miracle is well and truly happened! I found him … thank you all… xxx