Julie Cross is 'GOOD TO GO' – Emerald
December 5, 2020 @ 1:45 pm

-

4:00 pm

$45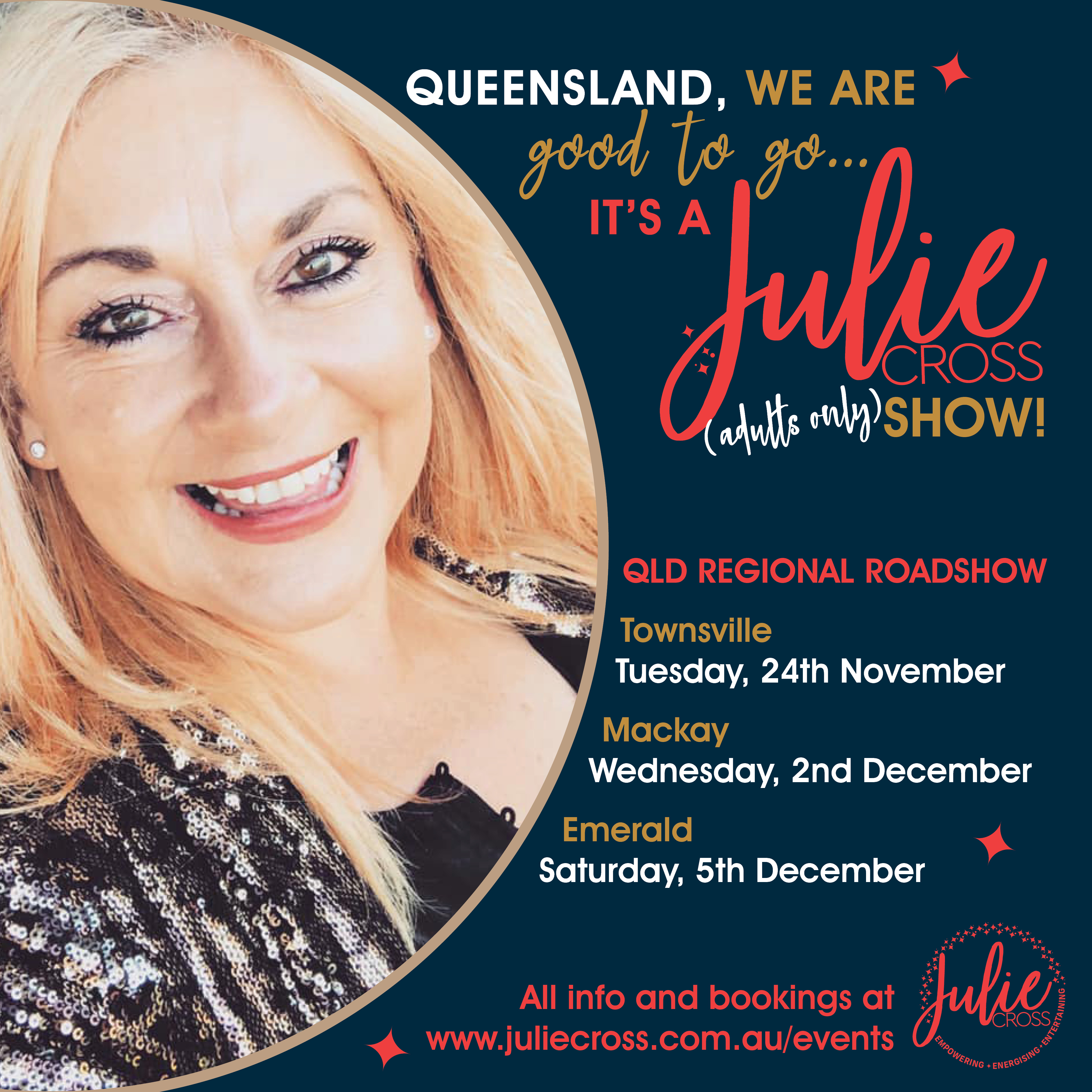 Regional Queensland is GOOD TO GO and Julie Cross is GOOD TO GO! 
It is a Regional Queensland ROAD SHOW!
It has been an another time of fear, change and uncertainty, it has affected our communities economically… but also emotionally and mentally.
So, it is time for some empowering, energising and entertaining messages that bring us together while we still stay safely apart.
Julie is an inspiring inspirational entertainer and a masterful story teller, she is an award winning Professional Speaker and been on stage at a Comedy Club, she is an Author, a Mum and was born in country Queensland, and she always loves bringing her message and joy to regional areas.
It is about celebrating 'life', about knowing that we can thrive rather than just survive in challenging times, and knowing for sure that no hard it gets, it gets better.
It is not a seminar, it is not a training session, it is a SHOW… it is the ADULTS ONLY SHOW… You will lean back with laughter, you will lean forward  into the messages and you will leave feeling great about who you are today knowing you can handle what is coming tomorrow.
What others have said…
 "You are Just amazing Julie. Thank you for sharing your wisdom with us and your journey. I walked away a different person after your show. You have shown me how to truely live life to the fullest. Keep on sparkling" -Elsa Ferraro –
"You are fabulous Julie Cross! We thoroughly enjoyed your raw honesty and humour. Life looks different today and I think I like it!" Kerryl De Felicis –
It is the ADULTS ONLY SHOW, however older teenagers are welcome at your discretion.
A note from Julie…
I am SO excited to be bringing my SHOW to your community… not only will we all be doing our bit to stimulate our economy but, we will also be coming together (at a safe distance of course), and sharing energetically, laughing together and that is so important for our mental and emotional well-being!
See you soon!