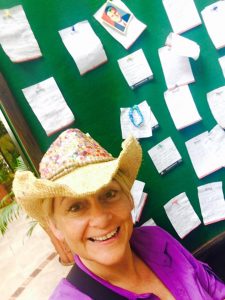 An African Adventure:
Jambo!! I have just woken up in Nairobi… I am about 5 minutes out of the city centre and I woke up to a rooster crowing… perfect! 
The flights and flight changes and stopovers were all like clock work, food was good, movies great, company good, got some sitting up sleep… just my luck!
Arrived at Nairobi Airport at 8.30pm local time. Our flight was not full so customs, obtaining visas was a breeze… just my luck!
Now to just find my driver that was booked to pick me up… lots of people with signs… none with my name on it… and then all of the 'taxi drivers' ss, ss … you need taxi, I take you, I take you… no, no, I have a taxi coming…. I wait, I look for my name… a guy says, 'You need taxi' … I say somebody is supposed to be coming… he asks where I am staying I tell him and he offers to ring them… you give me the number and I ring, he says. I don't know the number… ( naughty Julie )
I wait some more and Simon… his name is Simon… Simon says, 'Julie I will take you, I give you receipt, hotel pay you back' I think to myself, 'What would Julie the backpacker have done?'… she would have trusted her intuition and got on with it… let's go Simon.
Simon gets me to the Hotel safely… let's not talk about his car or driving. 
I have a wonderful conversation with Simon… he tells me how he lost his wife two months ago … she was 26 years old, about to have twins and their were complications and he lost them all… we talked about grief, having faith and how he had to be strong for his little girl… his princess, who was 7 and no without her Mummy.
I was glad I gave my money to Simon and I didn't care about being out of pocket having prepaid my transfer… lucky me to meet Simon.
I book into my Hotel… think slightly upmarket backpackers 
 … I then have a call from reception… Madame please come down stairs, somebody needs to speak with you… I think… Whaaat??? Somebody knows Julie Cross here!! Lol
It was the original driver … he apologised for missing me… he refunded what I paid Simon and assured me he wanted me to have a good impression of his country and his people!!! Lucky me.
My bed was the hardest bed I have ever slept in but it felt so good to stretch out, I was just grateful for that… clean, warm and safe… just my luck!
Now for a day exploring the city…
Lucky to have you all in my life! X