Service with Attitude!
October 23, 2018 @ 6:30 pm

-

8:00 pm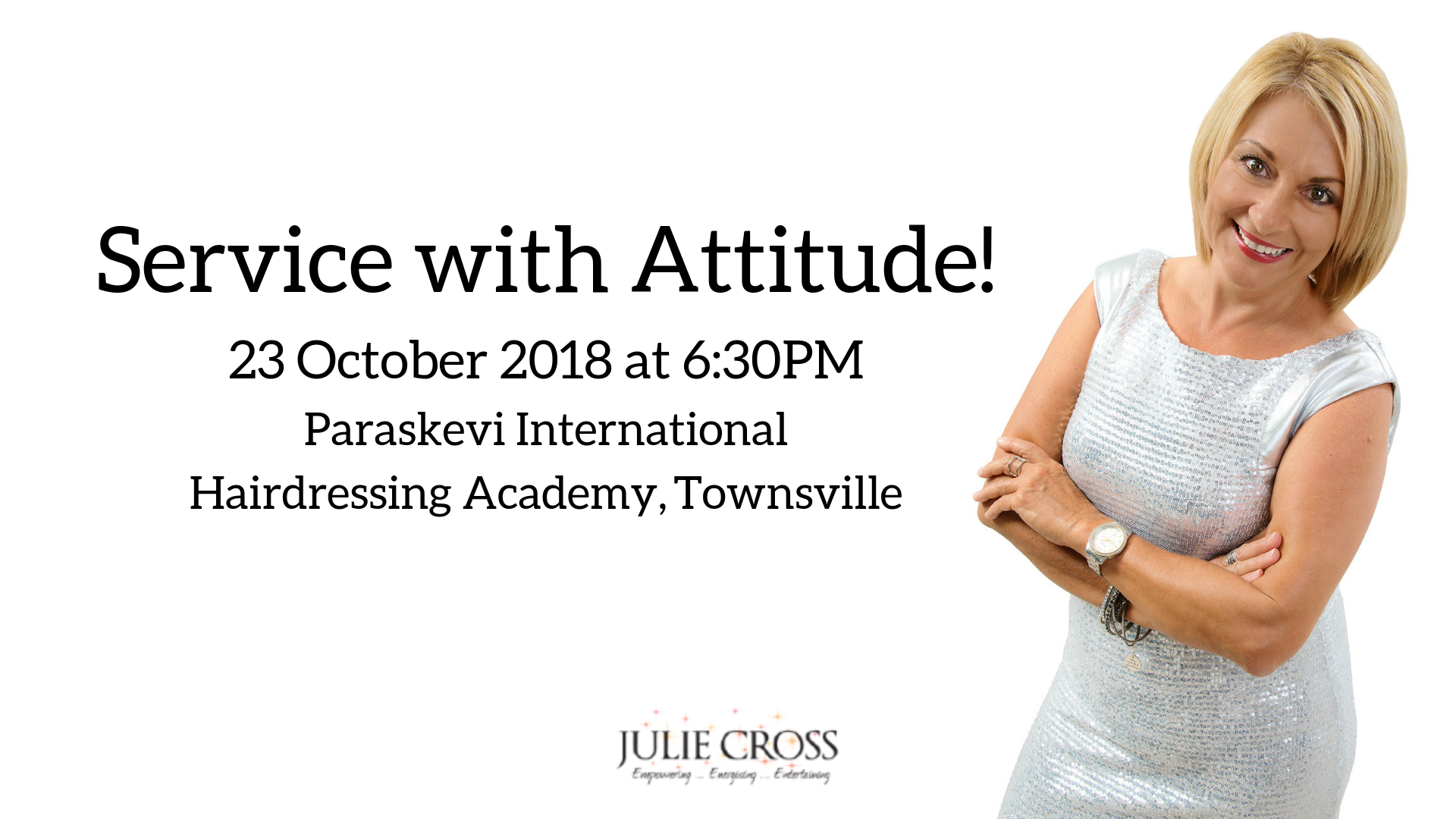 Service with Attitude!
The RIGHT Attitude… for winning clients and making money!
A special event for the The Hairdressing Industry…
Welcome to an evening of Inspiration, Empowerment, Entertainment and Education!
It is about empowering your team to give the best of themselves in every interaction with their clients; it is about inspiring your team members to bring enthusiasm and passion to their communication skills so inspiring clients to buy from them. It is about giving your team members the confidence to recommend retail, ask for the sale and move through fear. It is about cultivating team energy that draws clients to you. People buy from people, the work we do with hair and the beauty services is the product and the product is only as good as the people behind the chair. The product on your shelves is only as good as the passion of the people recommending it!
The number 1 question that I get asked by salon owners and managers is:
"How do I motivate my staff and keep them motivated?"….
Well my job is to inspire and empower them to motivate themselves (with a little ongoing help from you!)
I can promise you an evening filled with information, inspiration and motivation, and the benefit of that?
Well you tell me… an inspired, enthusiastic hairdresser taking ownership of their job, giving more of them and their unique personality, communicating with clients with passion and enthusiasm and exciting the client about all of the opportunities with their hair including educating them on how to look after hair in between visits?
That has got to be good for your business!
Some Key Focus Areas…..
Self Leadership and personal responsibility
Bringing the best of themselves to work every day
Reinventing our service particularly with consultation and retailing
Getting creative with communication
Working smarter not harder
Making money
Adding the sparkle and creating winning memorable experiences for clients
Looking forward to seeing you there!
Julie is an Inspirational Entertainer, multi-award winning Certified Professional Speaker (CSP), semi-finalist in Stand-Up Comedy, trainer and workshop leader. Julie began her career in the Hairdressing Industry has earned a reputation as a 'must-see' speaker, built a profile and made a difference in her circle of influence just by simply being her real, authentic self and owning the space she was born into. You can expect this event to be empowering and informative…
Buy Tickets