'Strong Girls. Strong World!'
June 1, 2015 @ 6:30 pm

-

9:00 pm

$40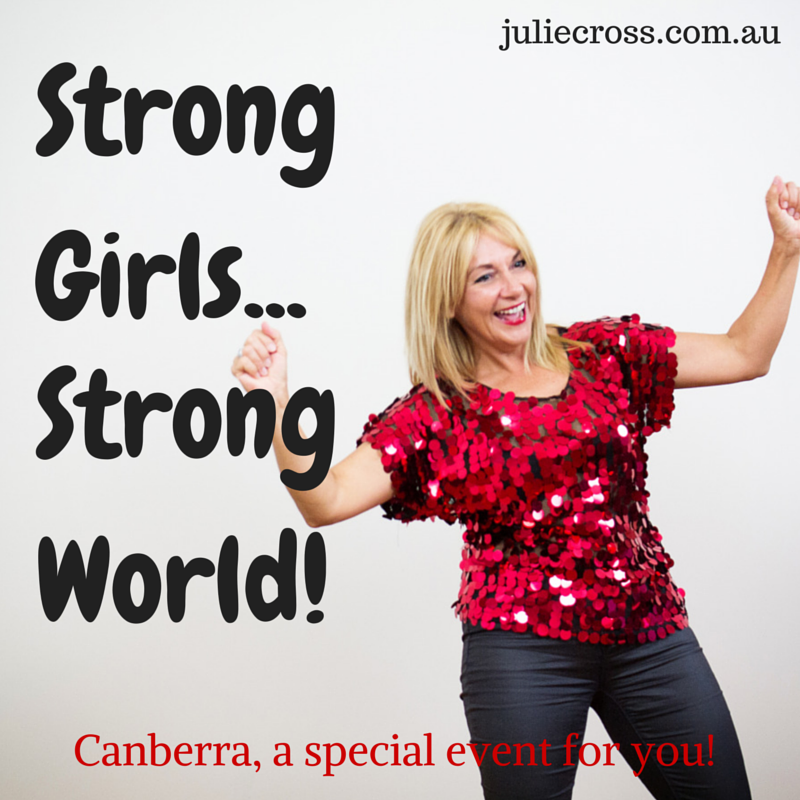 Julie Cross teams up with 12 year old Claire Falls and an amazing panel of prominent female leaders to empower up our girls!
Welcome to an evening of inspirational entertainment as well as thought provoking and life changing conversations!
Depression, anxiety, bullying, eating disorders, peer group pressure, body image concerns, domestic violence against women…
All of these issues are becoming more and more evident within our society and particular around our young girls.
 And now it is time! 
 It is time for us to own the space we were born into.. starting with our physical space, it is time to remember what we already knew and acted with courage, conviction and confidence.
 It is time for personal responsibility and self leadership. It is time to let our light shine and lead the way. It is time for laughter, fun and fearlessness. It is time to allow ourselves joy.
 It is time to face our fears, move through our pain and sorrow, embrace our mistakes and grow through our failures!
 It is time to empower up and live our best life, because we just get one chance.
 It is time to remember what we already knew and we are good enough!
It is about inspiring women of all ages to know for sure that they came into this world as miracles, totally loving themselves with a natural confidence and resilience and little concern about what 'other people' thought or said about them…
No more being affected by the constant marketing messages of 'not being good enough', unless we wear these clothes, have this size body, have hair like this, hang out with this crowd…. because when we allow that, our self-esteem is eroded and suddenly we place more value in stuff and in other peoples opinion of us than our own opinion of ourselves…
Ladies it is time to empower up, fall in love with ourselves again and rediscover that natural confidence and resilience that is our right to own helping us to move through fear and live our best and brightest life! 
Relevant to all ladies from 12 years old and of course men and boys are welcome too!
 You can expect to be entertained with Julie's amazing and sought after 'SHOW', she takes you on a lively, fun, emotional and spell binding journey that will rouse your senses, revive your spirit and challenge you to take action… you will laugh, you may have a tear… either way it is am experince everybody feels better for having. You will feel empowered and strong!
You will be delighted and inspired as Clair shares her journey and how she has changed lives and left her unique footprints in her circle of influence already… and she is 12!
You will have the opportunity to chat face to face with a panel of strong women leaders.
Meet Julie Cross…
Julie is a multi-award-winning passionate speaker and a non-award winning mother of two. She has become an advocate for positive body image after she had a post of her 47 year old body with stretch marks and dimples and a positive self-image message go viral.
She speaks nationally and internationally to a variety of audiences and is most passionate about empowering our young ladies.
She has earned a reputation as a must- see speaker and her message is frequently described as 'life-changing'.
She is so excited to be sharing the stage at this event with some many inspiring women!
 Meet Claire Falls…
Claire Falls has been playing football (soccer) since 2011.
In 2013 following a diagnosis of low vision she began advocating for the beautiful game as a sport for everyone.
In 2014 she founded the not for profit, "F.E.V.E.R Football For EVERYone.   
F.E.V.E.R advocates for the game being played at all levels regardless of ability, gender or race, using three key messages. Respect, Encouragement and Inclusion
Meet the Panel…
Dr Bridie O'Donnell Graduated as valedictorian from University Medical School is a Professional Road cyclist and has represented Australia, skilled in motivational interviewing and behavioural change encouraging sustained and positive behaviour change in her patients.
Heather Reid AM In 2014 Heather's contributions to Canberra were recognised by the Chief Minister when she was honoured with a plaque on the Walk of Honour in the city. Most recently, she was awarded a Memeber of the Order of Australia in the 2015 Australian Day Honours for her significant service to sport administration and as an advocate for gender equality is sports.
Natalie Forrest Natalie graduated from Western Australia's Edith Cowan University in 1997 having majored in English and Media Studies. Natalie is a senior member of the PRIME7 News management and editorial team at PRIME7 Canberra News Centre.
This is a one time opportunity to attend this very unique and special event because it is time! 
"Hi Julie!  I came to your show on Wednesday night and I just wanted to say thank you!  When mum told me she was taking me to an inspirational speaker I was like "Oh great, here we go again". But you are incredible. I laughed the whole time and everything you said just made sense. You've been through so much and you're the most positive, inspiring person I know! What an amazing thing to do for a living, making a difference. I can assure you that this is your purpose and you are 100% making a difference. I wish everyone I knew had seen your show on Wednesday, I'm only 15 and I had no clue someone could have such an impact and change your life at 15."
Come on, let's do this!