It is TIME! Mackay
August 8, 2016 @ 6:15 pm

-

8:45 pm

$45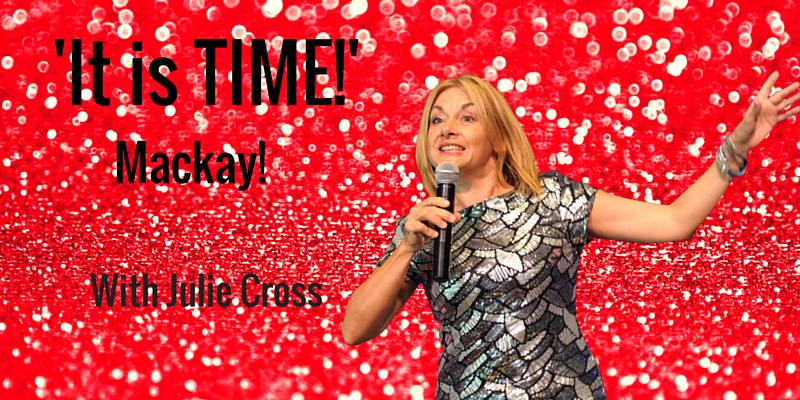 It is time for empowering up individuals, families, teams, teens, leaders, Mums, Dads, employed, unemployed, CEO's and YOU to live you best life and live it out loud!
YES, it's a SHOW for everybody.
WHY?
Because you told me, you told me when you left my SHOW that it was time… time that your husband, your teenager, your son, your daughter, your boss, your team, your wife and your friends all heard this message!
NOW THEY CAN!

Because it is time!
It is time for us to own the space we were born into.. starting with our physical space, it is time to remember what we already knew and act loudly with courage, conviction and confidence.
It is time for personal responsibility and self leadership. It is time to let our light shine and lead the way. It is time for laughter, fun and fearlessness. It is time to allow ourselves joy.
It is time to face our fears, move through our pain and sorrow, embrace our mistakes and grow through our failures!
It is time to empower up and live our best life and live it loud, because we just get one chance.
It is time to remember what we already knew and we are good enough!
And what you will hear and feel at this SHOW will affect everything in your life… your relationships, your workplace energy, your HR issues, your team work, your customer service, your friendships, your success, your happiness and your health… yep, it is BIG!
The relationship and conversation you have with yourself will affect every other relationship and conversation that you have!!
You will be entertained.. you will laugh and you may cry a little, you will be challenged and you will have many moments that you see yourself in, you will be taken on a lively, feeling, thinking, soul nurturing and sometimes confronting journey that will rouse your senses, stir your emotions and challenge you to take action… it's not just a 'seminar'…
It's a SHOW!!
No excuses… if you have seen me before there will be a combination of the old classics and some new concepts, stories and surprises!
Look forward to seeing you!