Julie Cross Unplugged! Adults Only
September 19, 2018 @ 6:30 pm

-

9:30 pm

$45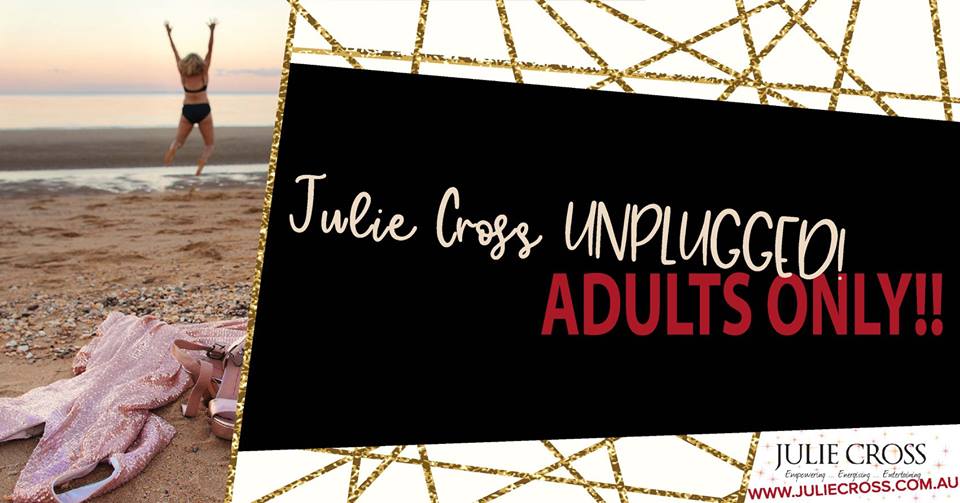 A special ADULTS ONLY Show…
Julie Cross Unplugged!
It is 'inspirational entertainment', but it is on a whole new level… welcome to the untold stories, the conversations we haven't had yet but are ready to have.
More depth, laughter, authenticity, honesty and ah ha moments.
This is the show you bring your girlfriends to and to share as husbands and wives. This is the ADULTS ONLY SHOW.
We take the challenges of life and dare to see the lighter side… we allow ourselves laughter when we thought there was nothing to laugh about… and we get back up through the chaos.
Discover how the ability to stay connected to our sense of humour is one of the greatest emotional workouts we can have.
You are invited to find the fun in the not so funny, rise up through the moments that could have kept you down and laugh hard and loud because it feels so damn good!
This is not the SHOW to come to if you are easily offended or find it hard to find the laughter in the serious and the deep.
It's inspirational entertainment at its best!
Julie is an Inspirational Entertainer, Multi-Award Winning Speaker and Semi Finalist in Stand Up Comedy.