Adventures with Julie Cross – Kayak and Camping
April 21, 2018

-

April 22, 2018

$390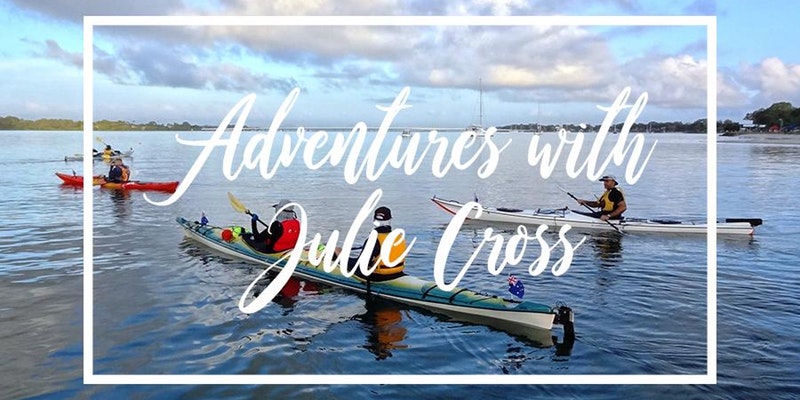 We have had shows, concerts and tours and now it is time for an ADVENTURE!
Welcome to your opportunity to adventure with Julie.
When I share some of my adventures with my tribe… whether it be travel, hiking, boating, climbing or wining and dining, somebody always says… wish I was there and wish I could do that!
WELL LET'S DO THAT!
The wonderful thing about an adventure together is that an adventure gets you out of comfort zones, can challenge you both physically and emotionally and invite you to grow!
Their will be friends to be made, laughter to be had, there will be moments of challenge and moments of growth… you will bond with Mother Nature and with yourself… there will be time for self reflection and group discussion and you will leave the adventure with a great sense of accomplishment and truly feeling alive!
You are invited to really live life rather than watch it from the sidelines!

NO EXPERIENCE NECESSARY


All information and investment details below…
Safety.
1. We will practice safety drill in the morning before departure. Wet exit and rescue.
2. You must be able to swim to join this event.
3. At all times during the trip we will have communication with our safety crew.
4. Paddling is obviously weather dependant. In the event of obvious bad weather beforehand we will make the call early, however, if on the day the weather is not conducive to a safe paddle we will call it off at the last minute. If that happens we will reschedule.
Support Vehicle
1.  Stevie will be our land based support in the vehicle.This will carry all our gear and supplies.
2. Please bring all your camping gear (travel light). This will be transferred into the vehicle at the start point. (see below for suggested items)
The Paddle
1. Point of departure – Boreen Point
2. Time of Arrival at Boreen Point – 07:00
3. Time of Paddle Briefing – 07:30
4. Safety Drills – 08:00
5. Time of departure – 09:30
6. Paddle route – Head north across Lake Cootharaba follow the river to Harry's Hut (Approx 15km).
7. Arrive Harry's Hut around 13:30
8. Reverse the following morning
9. Departure time on Saturday morning from Harry's Hut. – 09:30
10. Arrive Boreen point around 13:30
What you need on your Kayak
1. Wide brim hat
2. Sunglasses (with a lanyard so you don't lose them)
3. Sunscreen
4. Water (I recommend at least 5 litres in your kayak) and at least two litres easily accessible at all times. Do not dehydrate. Drink often.
5. Snacks. We will be on the water for around 4hrs. Have snacks to keep your energy up. Don't eat things you usually don't, keep to the same type of snacks you would usually have.
Camping and Food
1. Lunch, dinner, breakfast will be provided.
2. Drinks for the afternoon and evening will be provided.
3. The support vehicle will have all our gear and food.
4. We will set up camp once we arrive at Harrys Hut.
5. Please carry water and snacks for the paddle on your kayak. (there will be water on the vehicle as well but have enough for yourself in your kayak)
6. We are camping at Harry's Hut. Please Bring:
-A two man tent if you have one or swag (Remember space is premium, please don't bring the Taj Mahal)
-Sleeping Bag
-Dry Clothes
-Sleeping Clothes
-Toiletries
NO EXPERIENCE NECESSARY!
Price includes all Kayak, meals and everything above.