A Day with Julie
September 3, 2018 @ 7:30 am

-

5:30 pm

$550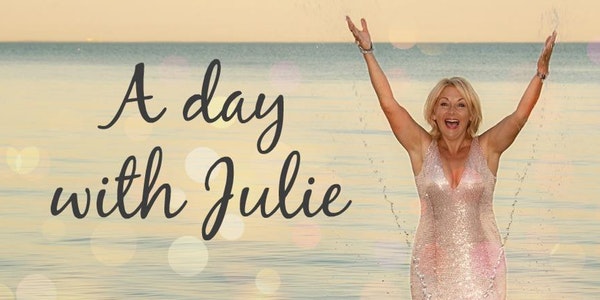 Welcome to a day with Julie… 'Going Deeper… and Empowering Up!'
Date: 3rd September 2018 at Suttons Beach Park

Do you want to make 2018 YOUR year rather than just waiting for it to show up?
Would you like to do all those things you have been meaning to do, move through those fears that have been stopping you… and live the life you deserve with little hesitation and no reservation?
Well let's take the action required and do what we said we were going to do and get started!
Welcome to a 'Day with Julie' and the 'Empowering up Program', a program a little different than what you are used to perhaps or what you have done before. You see I don't like to over-complicate the uncomplicated or use lots of jargon that isn't necessary. I prefer a 'see like it is', 'tell it like it is', so that just simply 'be WHO we are' and then just get on with living, laughing and loving with a whole lot of achieving, celebrating and making a difference along the way.
<< Only 3 spots left – secure yours now >>
So, what you can expect and what's in it for you and what is expected of you and what is your investment, besides a day of your time?
7.30 AM Walk on the beach and optional swim.
8.30 AM Breakfast with a view/change and freshen up if you choose.
9.30 AM First session …
# Building a strong personal foundation for you professional foundation to launch from
In this session we explore YOU… we go a little deeper into your beliefs about you what you deserve and the affect that those beliefs have on our success. For anybody that has been frustrated with their progress, when they are doing everything they have been taught to do… well I truly believe the answer lies in the foundation all those actions and strategies sit on.
# The connection between your personal, spiritual and emotional well being and your professional success.
We do take ourselves to work with us so it only makes sense that it is all connected. In this session we explore what is working and where we still need to grow.
# Recognising, reframing and re-inventing.
The power of your subconscious… if you are not harnessing this, then you are working hard and not smart. Let us grab the self talk that doesn't serve us and reframe it. You will leave with personal daily messages that work for you, that you believe and that will support your success and happiness. The reason people often don't think this 'works' is because of how the affirmations are written.
12 Noon Lunch at Suttons Beach Pavillion (walking distance)
1 PM Second session
Come prepared to share and ask! Is there something you think I can help you with? What do you want to know about my career, how I make it happen and how I balance it all. Perhaps it is a personal question, a professional question or a social media question. There is nothing off limits so bring along some prepared questions.
4 PM Finish with drinks on the balcony reflections, take home value and actions you are taking.
Pre–event
You will be sent a questionnaire to help prepare you and me for our time together.
You will also receive a list of what you need to bring to gain the most from the day.
Post-event
I will be following up with you to ensure that you are taking action!
You must…
# Be prepared
# Be honest
# Be prepared to be courageous and vulnerable
# Understand it is not a 'traditional' day of goal setting and workshops
# Be prepared to share
# Participate in all activities including the walk
Your investment is the special reduced price of $550.00 per person for our inaugural event, includes all lunch, morning tea, refreshments and drinks. Also included is a special welcome gift.
Limited to 5 guests – 2 tickets already sold, 3 left!