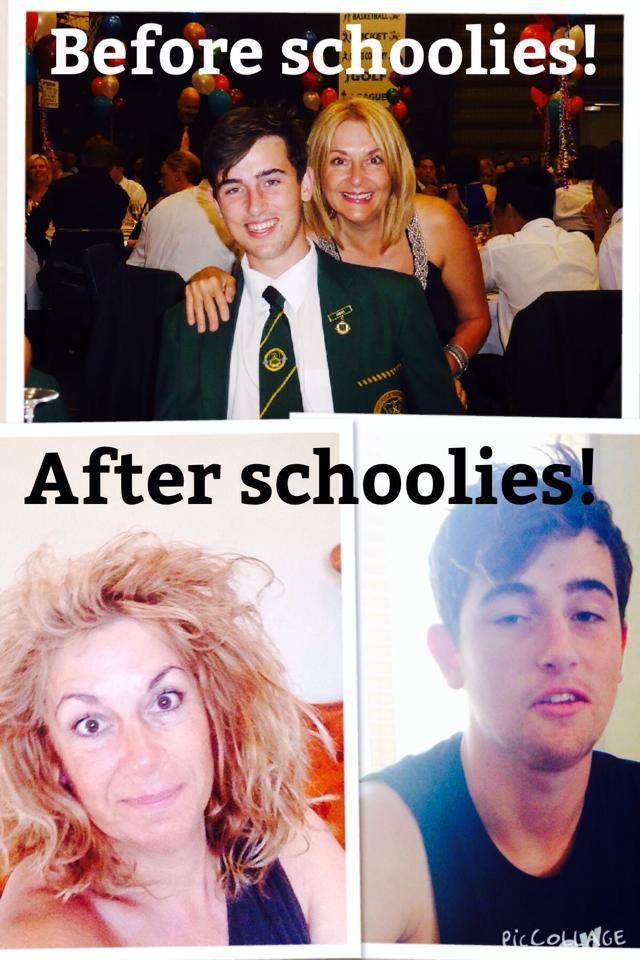 So, this is us before schoolies and this is us after… so let's talk about schoolies. Let's talk about boys growing into men. This year I have been very aware that we have been walking over the bridge from boy hood into manhood. Very aware of an 'Rite of Passage' rituals that I and we as a family would like to observe because it seems as a culture of new Australians we don't have any specific ones. In some countries they would have tied vines to their feet, and they jump to the ground, if you don't hit the ground you are a man, a lucky man… in others they fight lions, chisel their teeth, have whippings and get facial tattoos… our Aboriginals would send a young man out into the Wilderness for a week and if he came back in he was man… and so suddenly a week at schoolies sounds tame. But it seems that if we don't create the rituals they will.
I grew up in the bush and my Dad still lives there and last time we were out there earlier this year, Dad woke Jacko up early and said, "Get dressed Jack, we have work to do"… and a chainsaw was put into his hand and he worked with Dad.. at the end of the day Dad offered him a beer. All a silent 'rite of passage' country unspoken tradition…. You are old enough to work like a man and now you can have a drink.
At school this year they did an amazing retreat, lots of emotional growth and sharing of vulnerability and a deep look within learning that being strong comes from owning your emotions and sharing your storms and triumphs… so grateful he had that experience on the walk over this bridge.
And now back to schoolies and if we don't like it we better have a look around, have a look at the society that 'we' as adults have created. Jack has grown up in a culture where you have a drink or two with friends to celebrate significant occasions…we have done that, we see it everywhere… go to the Valley on a Friday night at about 1am and have a look around at where our kids may be going out next year… scary stuff. And there are no volunteers on every corner etc…so, I think schoolies is tame compared to that.
And he better get some practice at knowing how to handle himself in situations where testosterone is pumping and drinks are being had, some practice at resisting some temptations and then paying the price and feeling the consequences when you don't resist. Some practice at being an adult in the world we created. He is going off to the Army next February he will still be 17. Best he have some practice at showing self-control. As part of his going to schoolies he had to pay for the whole thing himself, which he did… I did not give him a cent. A great lesson in that, in becoming an adult.
And good practice for me too as a parent… to reflect on the values that we have instilled and the examples we have set, celebrating some and then regretting others perhaps. Good practice for me to send him into the world reminding myself that I now have to give up control and trust him, his choices and the Universe and faith and all that stuff. (And as you can tell I had the odd sleepless night..hehe…an old photo but that's how I feel!), Remember Julie, if he can't handle this how can I expect to handle the Army come February. So, he is home, he is safe and I have no doubt he made some mistakes… but I know he would have learnt a lot too, about himself mostly. He said he had the time of his life, so I am glad of that.
But one more ritual that I have decided in this said 'Rite of Passage', on the 8th December I am taking Jacko away for a week, just him and I to have some much needed time together without Autism demanding constant attention. We are going to Fiji to stay in a Village, and while we are helping to cook lovos and playing Rugby with the kids, sharing our donations to the local school I look forward to some conversations that need to be had as he makes the final steps over the bridge. I would have loved his Dad to be here for this one, but sometimes a Mummy has to do her best to do what a Daddy would have done and do it with a Mummy twist.
And so this is schoolies and that is a wrap! So grateful for the young men Jack spent this week with… He is in great company!