Certified Speaking Professional 
As a motivational speaker and master of ceremonies, Julie Cross is unique. She's not all about reciting cliched quotes and retelling 'same-old, same-old' stories. Julie believes in the power of authenticity, of telling it how it is, of sharing her own journey and being both brave and vulnerable at the same time.  Julie's approach and personality leave a long-lasting impression on those fortunate enough to experience one of her shows.Julie is well-known for spreading her sparkle (or spark, when it comes to the blokes in the audience) but there are two sides to her presentations.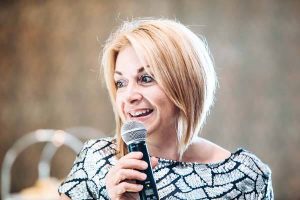 While she's committed to entertaining her audiences, Julie is all about the end result … ensuring audiences leave with very real tips, tools and insights they can apply to their careers, businesses and personal lives.
A multi-award winning speaker (and "non-award winning mother of two boys"), Julie can customise her presentation to suit any organisation or event's needs.  Her repertoire is broad, including but not limited to motivation and inspiration, retail, resilience, team building, attitude and customer service.
And her core message is simple – encouraging people to empower up to know themselves better, take personal responsibility, which in turn will help them to be happier and more productive in their life and career.
Time with Julie Cross is time well spent.  She has the amazing ability to deliver intellectual and informational material while challenging each audience member's emotions and allowing them to connect with, and really feel, her message.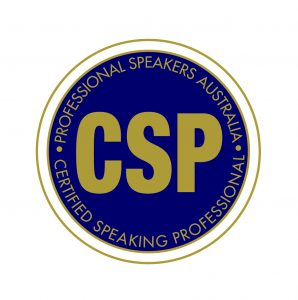 How did you become an inspirational speaker?
Why does your team need to hear from a inspirational/motivational speaker?
In 2017 she was awarded the Certified Speaking Professional (CSP) accreditation from the Professional Speakers Association.
You can view Julie's work on her promotional video.
See a list of speaking topics here.
Download Julie's Speaker's Kit here.
Browse a range of promotional images of Julie Cross here.